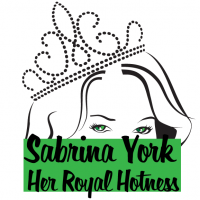 Sabrina York
Contemporary Romance, Historical Romance, Paranormal Romance, Romance, Erotic Romance, Time Travel Romance, Women's Fiction, Science Fiction, Fantasy
Her Royal Hotness, Sabrina York, is the New York Times and USA Today Bestselling author of hot, humorous romances. She loves writing in all genres and sub-genres so her books range from sweet & snarky to scorching hot. And occasionally snarky and hot at the same time. Whatevs. You get the point. Thar be snark in them thar books! You have been warned.

Whether your jam is hot Highlanders; suave, urbane (and naughty) Dukes, scorching hot SEALs in action, sexy stripper Cowboys (at the Stud Ranch) or a hot, horny guy trapped for centuries in a magical lamp… Sabrina has something for you! Check out excerpts for all her books at SabrinaYork.Com.

Sabrina's recent accolades include: 2018 Holt Medallion Winner, 2017 RITA® Nominee for Susana and the Scot, and 2017 National Excellence in Romance Fiction Award. Visit her webpage at www.sabrinayork.com to check out her books, excerpts and contests. Who knows? You might win a tiara. Represented by Nicole Rescinti with the Seymour Agency and JD DeWitt with 5x5 Productions.
It is human nature to think wisely and act foolishly.
Anatole France